Following Bertha, the SR 99 Tunneling Machine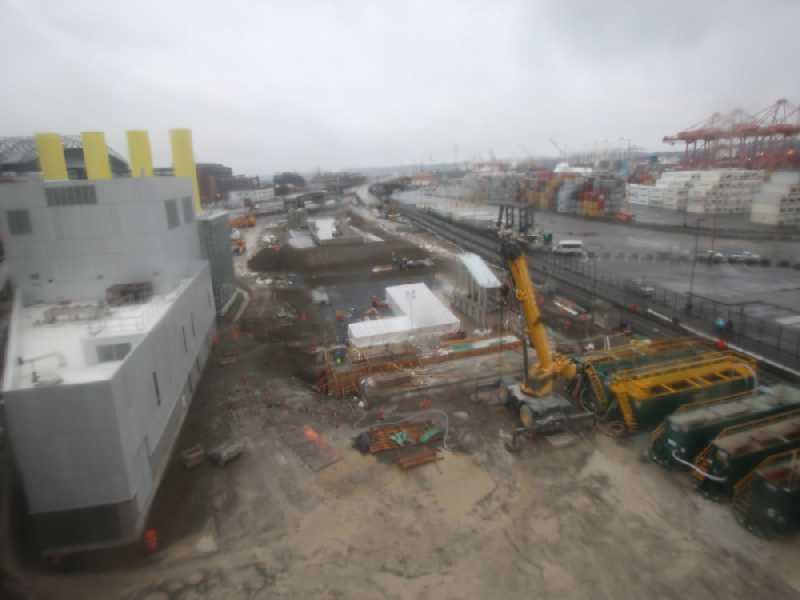 View from the construction camera looking south toward the SR 99 tunneling machine launch pit. Additional views are available on the construction cameras page.
Preparing for Bertha's summer launch
After a 5,000-mile journey from Japan and 10 days of unloading, Bertha, the world's largest-diameter tunneling machine, is officially on Seattle soil. Her 41 pieces are now arrayed near the pit to the west of Seattle's stadiums (pdf 485 kb) where she'll begin digging a two-mile-long tunnel beneath downtown this summer.
Over the next few months, crews will be hard at work preparing Bertha for her dig. That includes lowering her pieces into the launch pit for assembly and conducting a series of rigorous tests to ensure she's working properly before tunneling begins.
You can track all of the action on our construction cameras. And don't forget Bertha is on Twitter. Followers of @BerthaDigsSR99 will continue to get regular updates straight from Bertha herself as she prepares to start digging beneath Seattle.
Other resources
Go to Milepost 31 in Pioneer Square to see a motorized, 10-foot-long model of Bertha.
Our Flickr site has photos of crews building the machine Japan and crews in Seattle preparing for the machine's arrival.
Check out two new videos about the SR 99 tunneling machine, below.
Bertha press releases
SR 99 tunneling machine sets sail for Seattle, March 19, 2013
SR 99 tunneling machine almost set for trip to Seattle, March 6, 2013
Testing time for State Route 99 tunneling machine, Dec. 21, 2012
SR 99 tunneling machine tweets her name: Bertha, Dec. 10, 2012
Hitachi Zosen selected to build SR 99 tunnel boring machine, July 18, 2011